9 tags
Final Music Review: Stevie Wonder
Stevie Wonder, "Up-Tight" (Motown Records, 1966); "Innervisions (Motown Records, 1973); "Characters (The Motown Record Company, 1987) by Mariah Craddick/Reviewing the Arts honors class Dubbed a child prodigy, a musical genius, and a living legend, soul and funk mastermind Stevie Wonder possesses a keen awareness of the world around him which has cemented him as one of...
"Scandal"(Season 2, episode 2: "The Other Woman,"...
By Mariah Craddick/ Reviewing the Arts honors class During a time when the public has become more disenchanted with politics than ever before comes a political soap opera from the mind of Shonda Rhimes ("Grey's Anatomy," "Private Practice") amplifying all of the grit of the game to paramount proportions. "Scandal" promises and delivers all of the drama...
Hebru Brantley at The Silver Room, 1442 N....
By Mariah Craddick/ Reviewing the Arts honors class South Side Chicago-based artist Hebru Brantley brings the urban, African-American experience to life in exquisite and vivid detail through a series of comic book-like, fantastical characters in his new exhibit "Gravity is Too Expensive - Part II." Drawing obvious inspiration from pop art great Andy Warhol and graffiti genius Jean...
7 tags
"Almost Famous" (Directed by Cameron Crowe, 2000)
By Mariah Craddick/ Reviewing the Arts honors class From the same director who brought us teenage cult classics such as "Fast Times at Ridgemont High"and "Say Anything" comes an exhilarating account of the rock 'n' roll scene of the early 1970s. Cameron Crowe's "Almost Famous" thrusts the viewer into the middle of this era from the...
2 tags
Lianne La Havas, "Is Your Love Big Enough" (Warner...
by Mariah Craddick/Reviewing the Arts Honors class With accolades from music greats Prince and Stevie Wonder already under her belt, British songbird Lianne La Havas had a lot to live up to in her debut album "Is Your Love Big Enough?" Fortunately for her, the record holds its own, offering a refreshingly bright take on the neo-soul genre by incorporating elements of pop, jazz, and...
10 tags
"The September Issue" (Directed by R.J. Cutler,...
by Mariah Craddick/Reviewing the Arts Honors class Anna Wintour—the editor and chief of American Vogue—is single-handedly the most influential woman in the $300 billion fashion industry. She's also the most elusive. R.J. Cutler's "The September Issue" promises an inside, exclusive look at the woman behind the signature blunt bob and dark sunglasses yet fails to deliver...
2 tags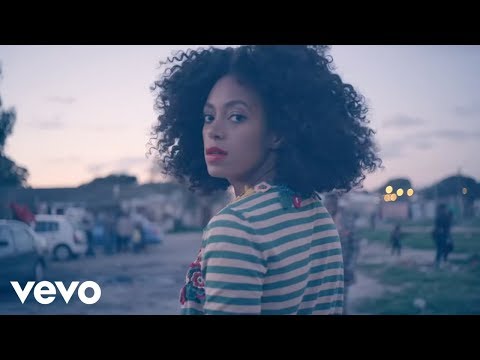 7 tags
MUSIC VIDEO REVIEW: Solange, "Losing You"...
by Mariah Craddick/Reviewing the Arts Honors class Over the past couple of years, Solange Knowles has become the darling of the fashion elite. In an effort to appear as different from big sister Beyonce as possible, she has evolved from the dorky girl in tacky House of Dereon originals to a nubian goddess boldly sporting unique designs and afro 'dos on red carpets all over. She has even...
7 tags
Cocaine 80's, "The Pursuit" (N/A, 2011)
by Mariah Craddick/Reviewing the Arts Honors class Seeming to have mysteriously dropped from the sky comes a musical collective, helmed by notorious producer No I.D. (formerly Immenslope), calling themselves Cocaine 80's. But don't let the name fool you.  The group's first EP, "The Pursuit," has very little to do with narcotics or the '80s, but instead...
Blog Critics: Critical Condition
by Mariah Craddick/Reviewing the Arts Honors class As a books critic for BOOKLIST and WLUW's Open Books, Donna Seaman approaches reviewing from a place of pure passion for the subject.  "You must find consolation in the art you dedicate yourself to and devote your critical attention out of hunger for what books or music or, literally, food grants you," she explains.  Though,...
4 tags
Review Comparisons
by Mariah Craddick/ Reviewing the Arts Honors class "SEA CHANGE: Frank Ocean and the new R.&B." by Sasha Frere-Jones (The New Yorker) Jones' ability to connect the piece of music to a larger picture and do so in beautifully descriptive language makes her review of Frank Ocean's "channel ORANGE" album work for me as a reader.  First, she opens up with a...
1 tag
HIATUS.
I'll be back when life calms down a little.
6 tags
All of you Dance Moms fans might enjoy this...
I wrote the top part of this debate on echomagonline.com. Check it out! http://echomagonline.com/2012/04/a-dance-moms-duel/ ("Like" us on FB, too!")
4 tags
5 tags
Changed my theme...
figured I needed to "lighten" things up. 
oldjemapellenicole asked: Just wanna say that I love your style!
3 tags
mac10snewbenz asked: your hair is beautiful, could i see your whole face?
3 tags
7 tags
4 tags
5 tags
4 tags
12 tags
"The World of Haute Couture and Those Who Rule...
So, what exactly is "haute couture" and why is it so important to the fashion world?  Characterized by meticulous and innovative sewing techniques, tedious hand-stitching and sewing and risk-taking materials, cuts and fits, haute couture was born in the fashion capital of Paris at the beginning of the 20th century. Originally, rich Parisian women would seek out designers to...
17 tags
5 tags
6 tags
"Vogue Editors Pose For An Iconic Photo, No Black... →
- Sad, but true. Let's change this. 
8 tags
6 tags
8 tags
"'Deconstructing' the Genius that is Charles...
He may not have been born here, but Chicagoans claim the brilliant couturier Charles James as one of their own. That's why the Chicago History Museum chose to exhibit some of his most illustrious and iconic designs in their "Charles James: Genius Deconstructed" exhibit—running from October 22nd-April 16th.             Not only do you get to see some of the sketching and thought processes behind...
3 tags
Tried my hand at photography today...
A LOT harder than one would think. 
4 tags
10 tags
"Capturing the World Through Another Lens" by...
The first thing that catches my eye is a video playing on a small television in the corner of the lobby. Dozens of little children eagerly grabbing disposable cameras as a set of three older women pass them out.  It is an interesting interaction, as one could tell a translator was needed for any communication between the children and the women. But the sheer delight and interest that read on...
11 tags
HISTORICAL PERSPECTIVE: "The Clothes That Defined...
  Looking back at the history of fashion and what people wore, there were a few key pieces of clothing that truly defined specific eras in time. These styles were not just ways of dressing but also ways of expressing the thoughts and feelings of the people of that era.  Take the classic flapper dress of the 1920s for example. The "Roaring Twenties" is known for being a period of...
6 tags
2 tags
10 tags
"Feels Good to Be Bad: Fashion's Bad Boy" by...
Throughout fashion and design history, there has been no other designer quite like Jean Paul-Gaultier. Known for taking chances and ignoring all "fashion codes", Gaultier and his designs are truly one of a kind.  For some, his name might not ring a bell but show them a picture of Madonna in his iconic conical bra or Lady Gaga in one of his space-age, corseted body suits and...
6 tags
5 tags